Welcome to our blog! Have you ever wondered what makes a place feel like home? At Imperial Apartments, we believe that the secret lies in creating a homely haven, where comfort and familiarity embrace you from the moment you step through the door. In this blog post, we will unveil the magic behind our service apartments that not only provide accommodation but also offer an unparalleled sense of belonging. So, sit back, relax, and get ready to discover why our service apartments feel like home sweet home.
Introduction:
The rise of service apartments
Over the years, the concept of service apartments has gained immense popularity in the hospitality industry. These fully furnished apartments offer more space, privacy and amenities compared to traditional hotel rooms, making them a preferred choice for both short and long-term stays. In this section, we will explore the rise of service apartments and why they have become a home away from home for travelers.
The Beginning:
The idea of service apartments was first introduced in the United States during the 1980s as an alternative to extended-stay hotels. It gained traction among business travelers who required longer stays and were looking for accommodations that provided a sense of comfort and convenience. The trend soon caught on in Europe and Asia, with major cities like London, Paris, Tokyo, and Singapore embracing this concept.
Growth Factors:
One of the main reasons behind the rapid growth of service apartments is their ability to cater to various types of travelers. From business executives to families on vacation, service apartments offer something for everyone. They provide homelike living spaces along with added benefits such as housekeeping services, laundry facilities, fitness centers, and round-the-clock security.
Moreover, the rise in international travel has also contributed to the demand for service apartments. As more people choose to work remotely or relocate for work opportunities, there is a need for temporary housing options that offer flexibility without compromising on comfort.
Benefits over Traditional Hotels:
Service apartments have several advantages over traditional hotels that have made them increasingly popular among travelers. Firstly, they provide more
What makes a place feel like home?
What makes a place feel like home? Is it the physical structure, the personal belongings, or something more intangible? This question is often pondered by individuals when they are searching for a new living space. At our service apartments, we understand that feeling at home goes beyond just having a roof over your head. It's about creating an atmosphere of comfort, warmth, and familiarity.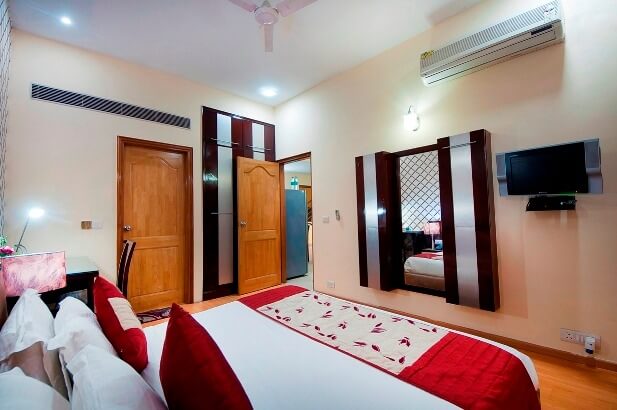 Here are some key elements that contribute to making our service apartments feel like home:
1. Personal Touches:
One of the first things you'll notice when stepping into our service apartments is the personal touches scattered throughout each unit. From cozy throw pillows to family photos on the walls, these small details add personality and character to your living space. We believe that incorporating personal items not only creates a sense of ownership but also adds a touch of familiarity and comfort.
2. Functional Layout:
A well-designed layout can make all the difference in how a space feels. Our service apartments are designed with functionality in mind, ensuring that every room serves its purpose efficiently without compromising on comfort and aesthetic appeal. Whether it's an open-concept kitchen or spacious living area, we aim to provide our guests with practical yet inviting spaces that they can truly call home.
3. Attention to Detail:
At our service apartments, we pay attention to even the smallest details to ensure that your stay is as comfortable as possible. From high-quality bedding and bathroom amenities to fully equipped kitchens with all necessary appliances and utensils – everything has been thoughtfully
Also read this – Why Serviced Apartments are the Best Choice for the Holiday Accommodation
The importance of comfort and familiarity
Comfort and familiarity are two essential elements that make any living space feel like a home. In our fast-paced modern world, where people are constantly on the move, it is crucial to have a place to call home where one can relax and recharge. This is where the importance of comfort and familiarity comes in. Our service apartments are designed to provide our guests with a homely haven, and here's why these two elements play a crucial role in achieving that.
Firstly, let's talk about comfort. After a long day at work or exploring a new city, all anyone wants is to come back to a comfortable space where they can unwind and feel at ease. Our service apartments offer just that with their cozy interiors and modern amenities. The furniture and décor are carefully chosen to create an inviting atmosphere that exudes warmth. The bedrooms feature plush bedding with soft linens for a restful sleep, while the living room provides ample seating for relaxation or entertainment. Additionally, our apartments come equipped with air conditioning, ensuring that our guests stay comfortable regardless of the weather outside.
Apart from physical comfort, we also understand the importance of mental well-being when it comes to creating a home away from home experience. That's why we provide thoughtful amenities such as high-speed internet access and cable TV so that our guests can stay connected with their loved ones or catch up on their favorite shows during their stay. We also offer housekeeping services, so our guests don't have to worry about mundane tasks like cleaning or doing laundry
Personal touches and attention to detail
At our service apartments, we understand that the little things can make a big difference in creating a comfortable and homely environment. That's why we take great care in adding personal touches and paying attention to every detail of your stay.
From the moment you step into our apartments, you will notice the warm and inviting atmosphere that is carefully crafted to make you feel at home. Our team of staff goes above and beyond to ensure that your stay is personalized and tailored to meet your needs.
One of the ways we add personal touches is by providing welcome amenities such as fresh flowers, fruit baskets, and a handwritten note from our team. These small gestures go a long way in making you feel welcomed and appreciated.
We also understand that each guest has different preferences when it comes to their living space. That's why we offer various room configurations and options for bedding, so you can choose what suits you best. Whether you prefer a firm or soft mattress, extra pillows or blankets, we are happy to accommodate your requests.
To make your stay even more comfortable, our apartments are equipped with all the necessary amenities like high-speed internet, fully-equipped kitchens, laundry facilities, and more. We pay close attention to every detail when it comes to furnishing our apartments with quality furniture and appliances. You can rest assured that everything has been thoughtfully chosen for your convenience.
We also take pride in keeping our apartments clean and well-maintained. Our housekeeping team pays special attention to details like changing linens regularly,
Amenities that make a difference
When it comes to choosing a service apartment, one of the key factors that sets them apart from traditional accommodation options is the variety of amenities they offer. These amenities not only make your stay more comfortable and convenient but also create a homely atmosphere that makes you feel like you are truly at home.
Here are some of the top amenities that make a difference in our service apartments and contribute to creating a homely haven:
1. Fully Furnished Space:
One of the biggest advantages of staying in a service apartment is that it comes fully furnished with all the necessary furniture and equipment. This means you don't have to worry about investing in expensive household items or going through the hassle of moving them from one place to another. Our service apartments are thoughtfully designed with modern and stylish furniture, ensuring that you have everything you need for a comfortable stay.
2. Well-Equipped Kitchen:
Eating out every day can be expensive and unhealthy, which is why having access to a well-equipped kitchen in your service apartment is such a game-changer. From basic cooking essentials like pots, pans, and utensils to appliances like microwave, oven, fridge, and dishwasher – everything is provided so you can cook your own meals just like you would at home.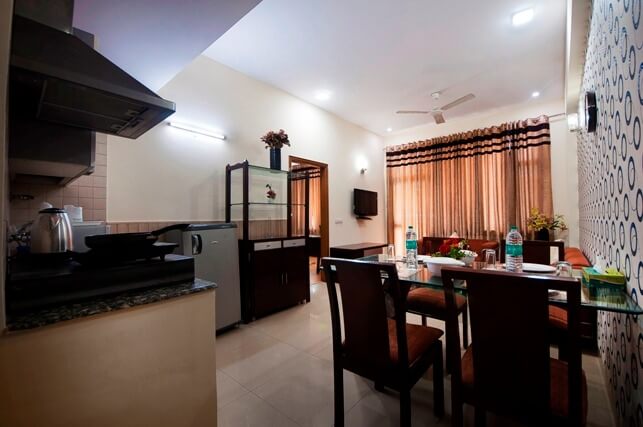 3. Complimentary Wi-Fi:
In today's digital age, having access to high-speed internet has become an essential requirement for most travelers. Our service apartments come with complimentary Wi-Fi so you can easily connect your devices and stay connected with work or
How our service apartments go above and beyond
Our service apartments are more than just a temporary residence – they are designed to be a home away from home. We understand the importance of feeling comfortable and secure while staying in an unfamiliar place, which is why we go above and beyond to provide our guests with a homely haven.
Firstly, our service apartments are fully furnished with high-quality furniture and amenities. We know that having a comfortable bed, cozy couch, and functional kitchen are essential for creating a sense of home. That's why we carefully select each item to ensure it meets our standards of comfort and functionality. From soft bedding to well-equipped kitchens, we strive to make your stay as comfortable as possible.
Furthermore, our service apartments offer personalized services that cater to your individual needs. Our team is always available to assist you with anything you may need during your stay. Whether it's arranging transportation or recommending local restaurants, we are here to make your trip stress-free so that you can focus on enjoying your time in the city.
In addition, we understand that being away from home can be challenging for some people. That's why we provide extra touches such as welcome hampers filled with snacks and drinks upon arrival, weekly housekeeping services, and 24/7 security to give our guests peace of mind. These small details may seem insignificant but can make all the difference in making you feel at home.
Moreover, our service apartments offer a sense of community through organized events and activities for guests to socialize and connect with one another.
Also read this- Advantages of Service Apartments for Families Travelling With Kids
Conclusion: Bringing the feeling of home to your travels.
Traveling can often be a tiring and overwhelming experience, with constantly changing environments and unfamiliar surroundings. As much as we may enjoy exploring new places, there is always a longing for the comforts of home. However, with the rise of service apartments in the hospitality industry, travelers now have the option to bring that feeling of home with them wherever they go.
At our service apartments, we strive to create a homely haven for our guests by providing them with all the necessary amenities and comforts that they would find in their own homes. From cozy living spaces to fully equipped kitchens, we ensure that our guests have everything they need to feel at ease during their travels.
One of the key elements that make our service apartments feel like home is the personalized touch we add to each space. Our apartments are designed with warmth and comfort in mind, using soft furnishings, warm lighting and inviting colors. This creates a welcoming atmosphere that instantly puts our guests at ease.
In addition to this, our apartments offer a level of privacy and independence that cannot be found in traditional hotel rooms. With separate living areas and bedrooms, guests can relax and unwind without any disruptions from housekeeping or other guests. This allows them to truly make themselves at home during their stay.
We understand that food plays an important role in making us feel comfortable and at home. That's why all our service apartments come equipped with fully functional kitchens where guests can cook their favorite meals just like they would at home. This not only adds convenience but also helps